Time for a Fall Family Fling! Try These Gatlinburg Cabins!
Just because it is still the peak of summer, it is never too early to begin planning a final fall fling. In fact, this is the perfect moment to consider a family fling in Gatlinburg. With the change in the seasons comes a change in weather; and the cooler days, sunny skies and early hints of autumn colors make it an ideal time to visit with the family. These Gatlinburg cabins are all family friendly, meaning they have great locations, lots of top rate amenities, and are all pet friendly. After all, how can you plan a fall family fling and leave the furry friends behind?!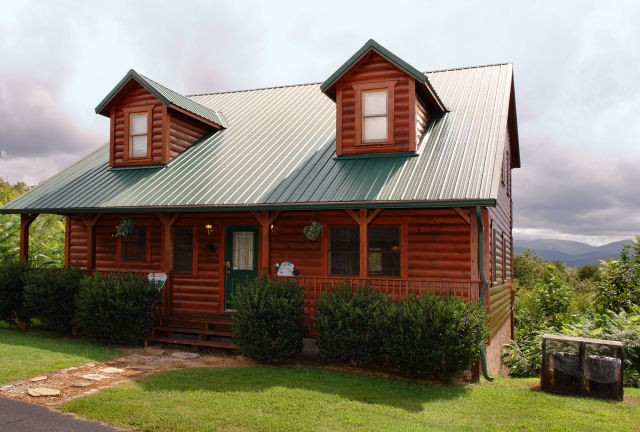 Let's look at a few cabins in Gatlinburg ideally suited for both small and large families alike. We'll begin with a two-bedroom gem and work our way up to a much larger, six bedroom option. Regardless of size, though, each of these Gatlinburg cabins is a wonderful find.
Scenic Ridge is easily lives up to its name by its location on a mountain top that ensures you get panoramic views of the stunning landscape. With expansive porches and a private yard, it rates as one of the perfect cabins in Gatlinburg for a smaller family. It offers generous interiors with a family room, modern kitchen, entertainment system, outdoor hot tub, game room with pool table, and is only five short minutes from the popular downtown area.
Next among the Gatlinburg cabins ideal for a fall family fling is the charming A Walk in the Clouds. Beautifully designed, it is a classic log cabin that sits high up in the mountains and offers simply stunning views of Pigeon Forge and Sevierville below. It has four enormous bedrooms, an oversized family room with fireplace and entertainment system, a contemporary kitchen, an outdoor hot tub, and indoor game room with pool table, air hockey and foosball tables, and more. This is a wonderful spot to enjoy hiking, trips to town or just relaxing in front of those amazing views.
One of the most flexible cabins in Gatlinburg for a fall family fling to the region is Black Beary Lodge. Less than three miles from Dollywood and the major shopping areas, it is an enormous and private property with a stunning list of amenities. Set on a mountainside, it features tremendous views, too. It can be taken as one of the three-bedroom Gatlinburg cabins or it can be taken in its entirety and offer you up to six spacious bedrooms. The amenities include a full game room with pool table, several decks and one with a hot tub. A modern and spacious kitchen and premium entertainment system complete the picture. With more than 13 acres, it is a fantastic family retreat.
If you are eager to choose from the best cabins in Gatlinburg for a fall family fling, these are only a few of the impressive options from Diamond Mountain Rentals. With a great inventory of spacious, family friendly Gatlinburg cabins, they are sure to have just what you need to make the most of your visit this fall. The many cabins in Gatlinburg truly do have something for everyone, and now is the time to see for yourself.