Hide from Winter's Chill in Luxury Cabins in Gatlinburg or Premium Condos in Gatlinburg, TN
How can cabins in Gatlinburg or condos in Gatlinburg, TN help travelers escape winter's chill? One thing they can do is offer a cozy fireplace to sit by while gazing out at the show-stopping scenery. The good news is that there are cabins in Gatlinburg, as well as condos in Gatlinburg, TN that offer this one key amenity. However, many also offer a great deal more.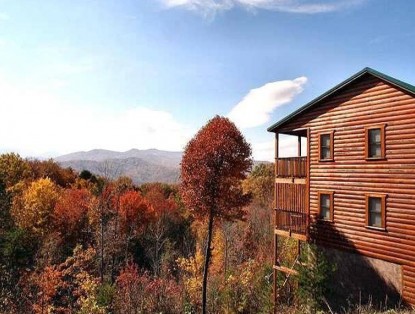 Let's take some time to identify perfect winter getaways available in the form of cabins in Gatlinburg and condos in Gatlinburg, TN, ensuring each has a fireplace and plenty of other comforts to while away a chilly winter day or night.
Great Cabins in Gatlinburg for Winter Travel
Winter in Gatlinburg means winter in the gorgeous Smokies, and while many believe that activities might be limited inside the Great Smoky Mountain National Park, that just isn't true. There are still a lot of hiking trails available, and some even lead travelers to stunning sights such as frozen waterfalls or panoramic views of snow-capped peaks. There are also many lovely drives that take travelers through winter wonderlands of sights and experiences.
In town, the shops, restaurants and attractions are (mostly) in full operation. Those who want to chalk off some winter skiing in the Smokies on their list of things to do will enjoy the proximity of Ober Gatlinburg to many of the best cabins in Gatlinburg and condos in Gatlinburg, TN, too.
Some of the finest options for cabins include Scenic Ridge, Lil Bit of Heaven, and Dream Maker. Each of these cabins is in a unique setting that ranges from a ridge to the side of a woodland stream. They can accommodate from four to six guests and offer those wonderful wintertime amenities like fireplaces, hot tubs, and even pet-friendly policies.
The Best Winter Condos in Gatlinburg, TN
Of course, there are many travelers who want great mountain views and direct access to things like Ober Gatlinburg or the Gatlinburg Strip and it is a condo that can do the trick. Diamond Mountain Rentals has a long list of options available in both cabins and condos, and some of their best for winter fun include Gatlinburg Towers 505, which puts guests just a few minutes by foot from the downtown and its shops, attractions, trolley and more. With a fireplace, balcony and room for four or more, it is a great winter escape.
Gatehouse 503 Condo is another good choice and sits above beautiful Roaring Fork Stream and provides amazing mountain views. Also offering a private balcony, fireplace, and a short walk into town, it can sleep up to six and provides a truly warm and welcoming setting to anyone eager to escape the winter doldrums.
Don't let the seasons get ahead of you and take some time today to book your winter retreat full of luxuries, comfort, and loads of beautiful Smokies scenery!